William Lovell Academy Uniform
The purpose of school uniforms is to establish a sense of unity, identity, social justice and discipline among students which builds cultural capital. We believe that wearing uniform promotes a sense of equality, reduces distractions, and creates a more focused learning environment. Additionally, it can help prevent students from being bullied or judged based on their clothing and can promote a more serious and respectful attitude towards learning. It creates a more cohesive and productive learning environment for students and we thank parents in advance for their support with this.
Below are the uniform requirements.
Everyday Uniform
Standards (uniform)
In line with guidance from the DfE, the academy has a uniform policy as follows:
Compulsory items:
School blazer
Plain white shirt
School tie. For Year 11 students a red tie will be provided to them in September.
Black school trousers (no leggings / jeans)
Optional items:
A William Lovell branded school skirt can be worn as an alternative to trousers. (available from Nationwide School Uniforms). Please note that no other skirt will be permitted.
Black V Neck Knitted Jumper as shown below. (William Lovell branded or plain, no 'logos' will be permitted)
Footwear: Smart, dress-style shoes are required. Boots, trainers, canvas, suede and casual styles are not permitted. (No sports logos). Shoes should be sturdy and suitable for winter.
Examples are included below: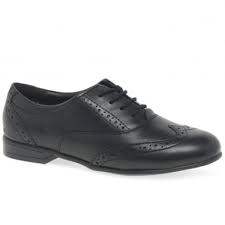 Hair
At William Lovell C of E Academy we promoting a professional and respectful appearance while respecting students' individuality and cultural diversity.

- Students are allowed to choose hairstyles that express their individuality, such as braids, ponytails, buns, or short cuts. However, hairstyles should not obstruct vision or pose safety concerns.
- Logos, symbols or words should not be shaved into hair or displayed on hair accessories.
- Hair Accessories: Simple and non-distracting hair accessories like hair ties, clips, and headbands are permitted. Excessive or overly elaborate accessories may be restricted if they disrupt the learning environment.
PE Uniform
Furthermore, please see details of our PE uniform requirements as follows:
Red and white polo shirt with school logo
Black and white PE training top
Plain black shorts
Red Socks
Trainers
Football Boots

Jewellery

No facial jewellery is permitted including eyebrows, nose, tongue, lip studs or rings. One stud earring is permitted in each ear and a wristwatch may be worn.

Make Up

Make up of any description is discouraged. Students will be required to remove any excessive make up. Nail varnish and false nails are not permitted due to health and safety concerns.
Our Suppliers:
Nationwide School Uniform, Vale Road, Spilsby, Lincolnshire, PE23 5HE
Standards
To help reinforce these requirements, standards' cards have been introduced, with the following process:
Member of staff requests student standards' card
Student card is filled in / signed by staff
Staff identifies that student has 3 x the same issue / complete card / can not or refuses to present their card
Staff communicate details of student(s) requiring attendance at an intervention session
Mr Symons manages administration of the Standards' intervention spreadsheet
Form tutor reminds student of need to attend
Student attends intervention
Should the intervention not be successful, there is a need to repair this through attendance in the next available intervention session
Further intervention takes place should this further attempt not be successful
Interventions are intended to allow an opportunity to repair any issue
Should there be any problem with a pupil's uniform then please issue your child with a note or send an email to enquiries@williamlovell.laat.co.uk describing the problem. We would request that parents and carers address uniform concerns within 48 hours. Please note the school will assist students by providing uniform where possible to ensure they are able to meet the academy's expectations.